It is really easy to use and is best used alongside Kinni and your treadmill to explore different real-world routes in various locations.
What can Rouvy control and why?
Rouvy cannot control the speed or incline on your treadmill for safety reasons but.. Kinni can! That's why we created FitCast, so you can run both apps together!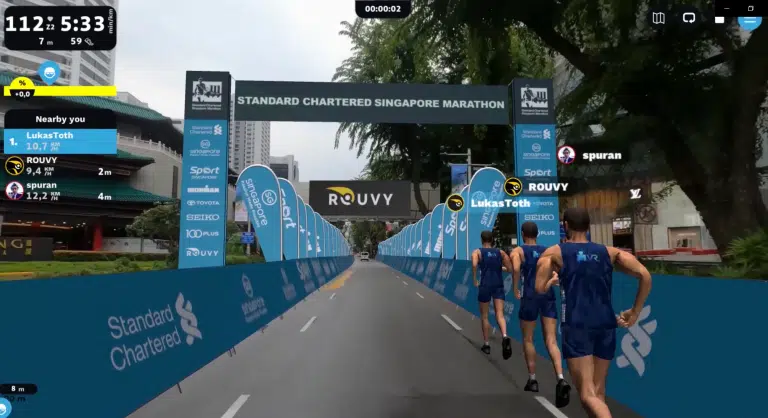 Rouvy vs Kinni
The Rouvy platform will not allow you to create your own workouts within the run category. But the Kinni app can! 
In order to use Rouvy and Kinni at the same time, you will need to use a feature within Kinni, called FitCast! FitCast will act as a bridge/virtual treadmill to run both apps at once so you can run your workout (hands-free) that you created in Kinni and the data will be sent to Rouvy.
For example, you treadmill will be controlled by Kinni but, the real-time data will display in Rouvy too!
Please note: the Rouvy platform cannot control your treadmill. 
You can download the Kinni app for iOS and Android.
How do Rouvy and treadmills work together?
On the Rouvy app there are two types of run you can do on your treadmill:
Training – Complete and improve your training on a particular route
Time trial – Compete against the clock to secure the fastest time 
If you are wanting to do a more specific training workout, we recommend Kinni, Zwift or Kinomap as these platforms provide an enhanced workout option.
Rouvy vs Kinomap vs Zwift
Rouvy, Zwift and Kinomap can appear quite similar as they all involve running in an online world. The main differences are that Rouvy has only 14 different running routes compared to the plentiful routes of Kinomap and Zwift.
Rouvy and Kinomap both use real-world GPS videos instead of Zwift's fantasy worlds. 
You can create your own avatar on Rouvy (similarly to Zwift) so when you explore the real-world routes you can envisage easily that you are really there! Kinomap does not allow avatar creation.
You can also unlock badges/achievements with all of these platforms to help keep motivation high! 
Rouvy vs Strava/Trainingpeaks
Connecting your Rouvy account to your Strava and TrainingPeaks accounts must be done through the Rouvy desktop version.
Rouvy will track your activities and progress in a Training Diary on the Desktop version in a similar way Strava/TrainingPeaks does. You can see the data from your workout, such as duration, distance, speed, power and more. 
Need further Rouvy support?
Please head to https://support.rouvy.com/hc/en-us. There you will find some informative support articles to hopefully solve any issues you may have.
Was this article helpful?